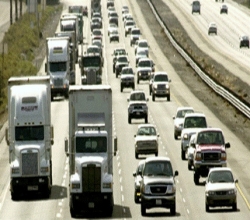 Back in 2003, before I got involved in the logistics industry, a friend of mine asked me if I knew what a freight broker was….honestly I didn't have a clue.  Based upon that fact, I figured it was a good way to start off this new blog by answering…What is a freight broker?
In it's most basic form, a freight broker is an intermediary that brings together shippers, needing transportation services, and asset based motor carriers that actually perform the services. Freight brokers, also known as property brokers, truck brokers, load brokers and logistics brokers do not act as either the shipper or the motor carrier but play an active role in the movement of cargo.
Freight brokers utilize their logistics/transportation experience, technology and relationships to help both their shipping customers and carrier partners.  Brokers are not new the logistics industry but have grown in popularity since government deregulation efforts back in the 1970's and 1980's.
Here is a brief description of some of the players involved in the trucking/logistics industry as we know it today.
Freight Broker: The middleman that arranges transportation between a shipper and a motor carrier.
Freight Agent: A person that coordinates freight shipments that typically works under the umbrella and supervision of a licensed/bonded freight broker.  Agents can be either independent contractors or employees.
Freight Forwarder: Freight forwarders typically differ from freight brokers in the fact that can and do take possession of the cargo, including the consolidation of smaller shipments where they then arrange for the larger shipments to get to their final destinations.
Motor Carrier: The companies that actually provide the trucking/transportation services.  They own or lease the actual trucks and trailers that provide the services to shippers and that is why they are referred to as asset based.
Shipper: Is any party that needs products transported from A to B.
Customs/Import/Export Broker: A person or entity that facilitates the clearing of goods in and out of a country for importers or exporters.
Many times freight brokers gain their knowledge and experience working for either a shipper, carrier, freight forwarder or another freight broker.  Others learn the business through freight broker training programs which are typically quite expensive ranging from $1,000 to $3,500 for 1 week of classroom training.  In recent years and online training has become a popular learning option and is typically  much more affordable.  It is not uncommon for a freight broker to start as a freight agent before venturing off to start their own brokerage.
Small freight brokerages can easily do between $1 million and $5 million in sales with larger brokerages that do $100 million to over $1 billion in annual sales.  Top freight agents earn $300,000 and $500,000 per year or more but in my experience most agents earn between $50,000 and $100,000 per year with over 80% working from home.
Now is a great time to become either a freight broker or freight agent because more than ever shippers need cost effective transportation solutions due to capacity constraints and increases in the cost of diesel fuel.  This increase in need can open the door and be a launching pad for your business.  Year over year more freight brokers control more and more of the worlds freight spend so now is the time!
Visit www.freightbrokerbootcamp.com for details on my online freight broker training program.
Hope you enjoy the post, stay tuned for more to come!
Regards,
Dennis Brownh
Owner FreightBrokerBootcamp.com