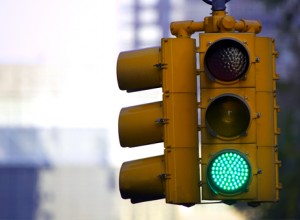 Years ago I heard a saying that has stuck with me to this day and has been the topic of many a conversation with people that come to me for advice on starting a new business venture.
"If you wait for all the light to turn green in the morning before you head to the work…you're sure to be late!"
Most people that are looking to start a business or change careers are plagued with the indecision for two primary reasons 1) they are afraid of failure and/or 2) they are waiting for the "perfect timing."  They fall victim to what I call "paralysis by analysis" and they second guess themselves into indecision.
You have to understand that their is no such thing as a perfect time when all the planets are in alignment.  If you're waiting for that, you are on the road to never ending indecision and fear of failure is the ruler in your world.
Every month I have thousands of people that visit this site every month looking for information on becoming a freight broker or freight agent.  I share information with them freely, in an effort to help them evaluate the opportunity of joining the logistics industry.  Since launching the site, over 1,000 students have taken my online freight broker training program and many have went on to become fully licensed freight brokers, while many others have decided to become freight agents.  The key is the fact that they saw the opportunity and realized the potential gain far exceed their fear or risk, so they took action!
On the other side of the coin, becoming a freight broker, freight agent is not for everyone.  It's not some get rick quick scheme where you are going to see overnight riches fall into your lap.  But if you're have a good work ethic, are willing to get out of your comfort zone and like a fast paced environment becoming a freight broker or freight agent could be a great opportunity for you.
Below are 5 articles I wrote that are designed to help you evaluate, if in fact, you should considering becoming a freight broker or freight agent.
#1 Timing is everything, why become a freight broker today?
#2 What is the difference between a freight broker and freight agent?
#3 Freight Broker bond increased! How can you benefit from this new legislation?
#4 How much can a freight broker or freight agent earn?
#5 How to get your freight broker license?
My brokerage just had another record year and we are expected significant growth next year and beyond…but I will share more about that in future posts.
I hope you enjoy the articles and feel free to reply to any with questions or comments you might have.
P.S. If you liked this post please Share it with others below and don't forget to click the g+1 logo at the top or bottom of this article to let Google and others knows you liked it!
Regards,
Dennis Brown
Owner, www.FreightBrokerBootcamp.com
Click here to become a Freight Broker or Freight Agent in 30 days or less!