If you want to get your freight broker license in Canada there are few steps you need to take.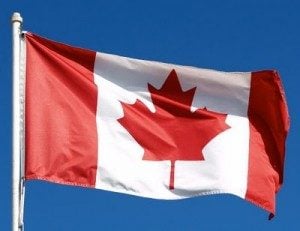 First let me start with the fact that the job of a freight broker in Canada is virtually the same as freight brokers in the U.S.
Both the U.S. and Canadian freight brokers and freight agents act as the middleman between shippers and motor carriers helping to match shipper loads with available truck capacity.
A Canadian Freight broker, also known as load brokers, logistics brokers, shipping brokers, truck brokers, transportation brokers and property brokers have become an integral part of today's supply chain. 
Canadian Freight Brokers can offer an array of services including full truckload, less than truckload, rail, and even air/ocean.
Click the following links to learn "What is a freight broker?" and "How much freight brokers or freight agents can earn?"
If you interested in getting your freight broker license in Canada, here are the basic requirements as stated by the National Transportation Brokers Association. www.ntba-brokers.com
The list of provinces below regulate freight brokerage operations:
ONTARIO: Effective January 1, 2006, Ontario Regulation 556/92 to the Truck Transportation Act and the Act itself are repealed.
One part of 556/92 has been retained in legislation and transferred to the Highway Traffic Act (HTA). Where the previous 556/92 required an application to obtain a Load Brokerage Certificate, the new addition to the HTA requires no such application or certificate, and will universally apply to all companies who broker freight "over-the-road" including motor carriers, warehousemen, customs brokers, freight forwarders, 3PLs and freight brokers. 556/92 of the HTA speaks mainly to the requirement that all parties who broker freight must maintain a trust account to hold monies payable to the carrier.
QUEBEC: Presently, the Commission des transports du Québec Section 332 requires that a "transport service intermediary" (any person who finds a carrier for the account of his client) register with the CTQ. Person can be a freight forwarder, a forwarding agent, a broker and so on, and corresponds to one of the following situations:
(1) concludes a contract in Québec
(2) has a place of business, an office or a business address in Québec, a post office box or a telephone number
(3) has a representative or an agent with a proxy to transact on her behalf in Québec
(4) generally, acts in Québec for gain in the scope of professional or commercial activities
The provinces and territories listed below do not currently regulate freight brokerage:
ALBERTA
BRITISH COLUMBIA
MANITOBA
NEW BRUNSWICK
NEWFOUNDLAND
NORTHWEST TERRITORIES
NOVA SCOTIA
NUNAVIT
PRINCE EDWARD ISLAND
SASKATCHEWAN
YUKON
If you are located in Canada, learning to become a freight broker or freight agent is virtually the same as in the United States so any reputable freight broker training program should be able to teach you how to effectively broker freight.
Online training has proven to be a very effective way for people to learn how to become a freight broker remotely.
If you are interested in learning how to save over $1,000's by attending an online freight broker training program versus a school or classroom setting check out www.FreightBrokerBootcamp.com
P.S. I hope you found this article useful, if so tell Google by click the g +1 logo in the top left hand corner of this article to help other people find it online!
Regards,
Dennis Brown
Owner, www.FreightBrokerBootcamp.com
Legal Disclaimer: The information in this article has been compiled as accurately as possible. However, FreightBrokerBootcamp.com and the National Transportation Brokers Association, its Director, Officers and/or Shareholders assume no liability whatsoever for its accuracy. This information should not be misconstrued as legal advice and readers should verify any information contained on this page before making any business decision.