I have already shared with you how much top freight brokers can earn including my person story so today I am going to share how much money can be made working as a freight agent under a licensed/bonded freight broker.
Let me first start by saying I personally know freight agents that regularly make $30k, $40k and many times as much as $50k or more per month in commissions.  With that in mind please  note, I am not saying that all freight agents/brokers $30k+ per month but at the time of this post, Indeed.com calculates the average salary for freight broker agents as $86,000 per year.  Compare this to average household income in 2011 of $51,413 and you can see that becoming a freight broker agent has many benefits including above average income as well as the fact that most freight agents are able to work from home with minimal start cost.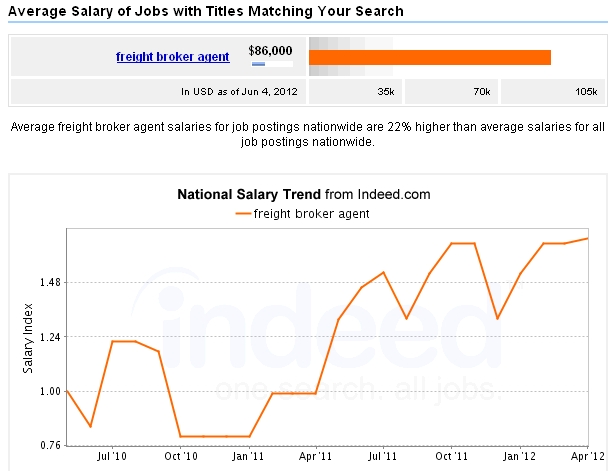 One of the greatest parts about becoming a freight broker agent  is that fact that there is no testing, no licensing and no bonding requirements in order to get started.  The most important component to becoming an agent is learning exactly how brokers make money including getting customers, finding carriers, dispatching trucks and proactively solving problems along the way to insure their customer's freight picks up and delivers on time in good condition.
Freight agent training programs come in all shapes and sizes including classroom, one on one and the increasingly popular online freight broker agent training programs.  With the proper training, a positive attitude and a good work ethic there is no reason that within 12 to 18 months a new freight broker agent can't be equal to or exceeding the Indeed.com stated average of $86,000 per year.
Please don't take the title of my post the wrong way, I am a big believer in formal and ongoing education.  I graduated from the University at Buffalo in 1992 with a degree in Pre-law and I am not sure where I would be today had I not attended college.  On the other hand, I know numerous men and woman without college degrees that have went on to become successful freight brokers and freight agents.
I've said it before and I'll say it again, there are thousands of ways to make money but in my opinion there has never been a better time to become a freight broker or freight agent so if your interested in learning why click the link above.
P.S. I hope you found this article useful, if so Share it with a friend and make sure to tell Google by click the g +1 logo in the top left hand corner of this article to help others find it online!
Regards,
Dennis Brown
Owner, www.FreightBrokerBootcamp.com