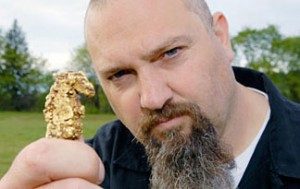 OK so let me explain my title.
Have you ever heard of a show called GOLD RUSH ALASKA on the Discovery Channel?
Recently I watched it for the first my first time and while my wife laughed hysterically as I got drawn in by yet another of these crazy reality TV show, I couldn't help but think about my life as an entrepreneur over the past 17 years.
In a nutshell, the show is about a father and son (the Hoffmans) and a few friends that risk everything including their families to move to Alaska to mine for gold.  The greenhorns invest their life savings and even money they don't have into mining equipment and supplies and make every mistake in the book but preserver and next thing you know they strike gold.
Crazy huh?
For some people "crazy" is putting it nicely but for me I was drawn in because you could feel the passion and the hunger that you only witness when someone is truly following their dreams.  Some people think it's about getting rich and others think that people like the Hoffman's and other entrepreneurs like myself are nuts.
So how much would you invest to pursue the dream of owning your own business?
>>> Click HERE – #1 Freight Broker/Agent Training Program Online!
The Hoffman's invested over $250,000 not to mention the fact they picked up their families and moved to Alaska.  When I first became a freight broker I invested over $10,000 and hundreds of hours on education before I even opened the doors.
Here's a quick road map to help you get started!
#1 Define and write down your dream in as much detail as possible.
#2 Learn everything you can about your new business venture before you ever start.
#3 Draw up a detailed plan on how you are going to achieve your goal.
#4 Execute on your plan every day until you achieve your goal.
Don't be surprised if one day you wake up and you are now living your dream.  That's what happened to me and why I am now a Gold Rush Alaska fan.
So do you still dream of owning your own business?
If NO, I still think you will enjoy Gold Rush Alaska and you should check it out.
If YES, then I have an easy way for you to stake your claim as a freight broker or freight agent.  It won't cost you $250,000 or even $10,000 like it did me, you can get started with your freight broker training for as little as $98.
Find out how at www.FreightBrokerBootcamp.com
To your success,
Dennis Brown
To learn how to become a freight broker or agent visit www.FreightBrokerBootcamp.com