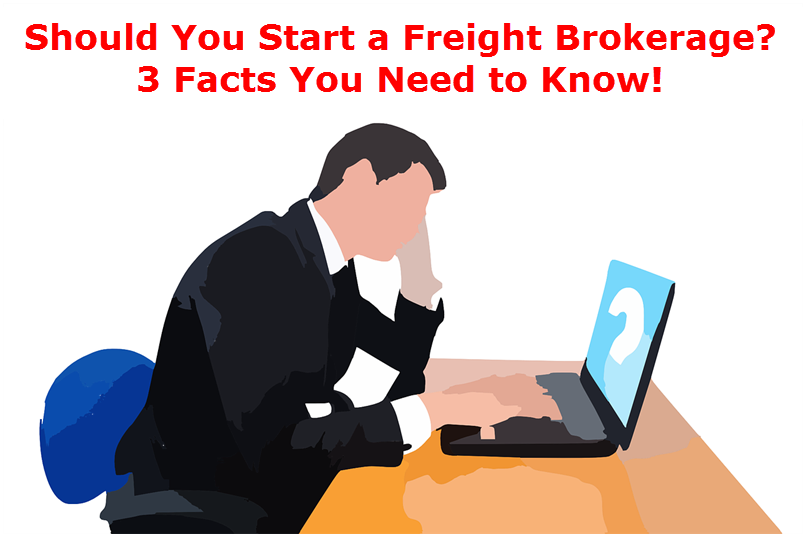 If you're considering starting a freight broker business or becoming a freight agent, now is a great time to get started.  In this short article I am going to share with you 3 important criteria to consider when evaluating if it's the right business for you.
MAKE SURE TO WATCH MY SHORT VIDEO BELOW!!!!!
Work from home – Not all small businesses can be run from home but it's not unusual at all for freight brokers and freight agents to start at the kitchen table, a spare bedroom or even an office in the basement.  One of the greatest parts of becoming a broker is you do not need a retail store or even employees.  All you need is a computer, a phone, the internet and a little bit of training on how to become a freight broker or freight agent and your off to the races.
There are tons of advantages to working from home so I listed a few below.
No commute to or from work (Saves 1-2 hours a day)
Save money on gas
Tax write off
Spend more time with family
Avoid office politics
Less distractions
Healthier lifestyle
Growing demand – The freight industry is driven by supply and demand and with the baby boomers retiring from the industry at an alarming rate, there is a growing shortage of truck drivers.  Some people see this as a negative but for freight brokers and freight agents I consider this a huge positive.   Why?
Because with less truck drivers on the road it makes a shippers job harder.  That means it is more time consuming for shippers to manage their constant flow of inbound and outbound freight.  Many of the drivers/carriers they have been using for years are no longer an option. Never forget, one the biggest value proposition that brokers offer to shippers is providing a service that saves time not just cheap rates.
Ask yourself this simple questions.  If you were a shipper would you rather make 10,20,30 or more phone calls to move 1 load or would you rather just work with a reliable broker that will do all that work for you?  Smart shippers love outsourcing their freight to brokers because it save them time and is less expensive than hiring experienced logistics professionals in house to do all the work.
Unlimited income potential – Did you know that the US 3PL Logistics market is over $160 billion in 2015 which is up from $157 billion in 2014.  The top 50 freight brokers in the US range from $130 million to as much as $11.9 billion per year in sale.
So how much of that market to you want?
I remember starting my brokerage with  no customers and no experience for that mater and with some hard work we were able to generate over $1.2 million in sales in our first year.  Within just 10 years we were able to grow that business to over $47 million a year in sales.
So regardless if your a truck driver, the spouse of a truck driver or just someone interested in starting a freight broker business…now is an amazing time to get started.
The key to success in any new venture is to find and get trained by someone that has already done what your looking to achieve.  That is why I launched Freight Broker Boot Camp back in 2003 and have helped train over 2,600 students online.
Did this article help you out?  If so, I would greatly appreciate it if you would comment below, SHARE on Facebook, Twitter, LinkedIn and be sure to click the g+1 logo and let Google know too!
P.S. Did you know that I offer a 60 day 100% money back guarantee to students that enroll in my online Freight Broker and Freight Agent training program?  Give it try and if your not happy for any reason…I will personally refund your money!!!!
Cheers,
Dennis Brown
Owner, www.FreightBrokerBootcamp.com
Freight Broker Trainer / 6X Inc. 500 Fastest Growing Freight Broker