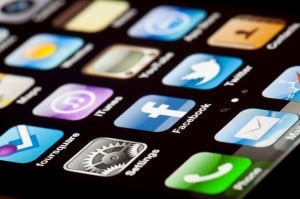 A while back I wrote a blog post where I shared my, Top 10 Freight Broker Software Programs and it is now one of the most popular posts on my blog.  This got me thinking about how things have really changed since the growth of smartphones and mobiles apps, so I thought a good follow post would be the 6 mobile apps that every freight broker and freight agent must have, so hear we go.
Please note, the  below mobile apps are not in any particularly order!
1. ITS Broker – Is powered by Internet Truckstop and is by far one of my favorite loadboards for freight brokers and agent, so it stands to reason that their mobile app would be on my list too.  This app makes it really easy to access their load board, including making changes to your account on the fly while away from your office.  I personally remember dozens of times when I needed to post a load or find a truck while away from the office and couldn't.  Since the launch of mobiles apps like this one, it is now much easier and less frustrating for freight broker to manage freight while away from the office.
2. Getloaded – Is powered by Getloaded.com and is another load board that is now allowing brokers and carriers access to their accounts from their mobile phones.  Much like ITS Broker posting loads, searching for trucks as well as other features are now easy to do while away from your office.  I think brokers and agents should have both Internet Truckstop and Getloaded so having both mobile apps only makes sense as well.
3. Linkedin – Is powered by Linkedin.com and it may surprise you that this is on my list of must have apps but the fact is, I am a huge fan of Linkedin.  I have personally built connections with over 5,000 people from around the world and me and my team have generated thousands of leads, hundreds of customers and over $20 million in new business since joining in 2007.  Linkedin mobile app allows me to easily access all of their profiles, search for new connections, read industry news and more all from my mobile phone.  If you like to would to connect with me on Linkedin just go to www.Linkedin.com/in/askdennisbrown.
4. TeamViewer Remote Control – Is powered by TeamViewer.com and provides easy, fast and secure remote access to your computer.  This app allows you to remotely access all your docs and applications that are sitting on your office computer.  It may not be something you use everyday but works great in a pinch when you really need it.
5. MyRadar Weather Radar – Is powered by Aviation Data Systems and is one of the easiest and fastest ways to determine if your load is going to be delayed by bad weather. The app uses an animated radar screen that very accurate and one of the easiest, fastest mobile weather apps available.  Over 17 million people have downloaded and it so give it a try.
6. Google Maps – Is powered by Google.com and as any freight broker or freight agent knows, we live our lives connecting point A to point B on a map.  This makes Google Maps mobile app an invaluable tool for any smart broker.  I can virtually guarantee that you as a freight broker you will need to be able to give directions to a driver or dispatcher while outside of the office and with this free app it is now very easy. I highly recommend you add it to your arsenal.
The fact is, there are literally millions of apps and many more that I could have listed here today but I think these are the 6 mobile apps that every freight broker, freight agent, truck broker, logistics broker should not be without.
Feel free to comment below on which apps you like most or other apps that you think would be helpful or important to freight brokers or freight agents!
P.S. Would you like get $1,000 in FREE BONUSES?  Check out my online freight broker and freight agent training today. ===>>> Click HERE! www.FreightBrokerBootcamp.com
P.S.S. I offer a 60 day 100% Money Back Guarantee NO Questions Asked!!! 
Cheers,
Dennis Brown
Owner, www.FreightBrokerBootcamp.com
Freight Broker Trainer / 5X Inc. 500 Fastest Growing Freight Broker
Did This Article Help You Out?  If so, I would greatly appreciate it if you would please comment below, SHARE on Facebook, Twitter, Linkedin and be sure to click the g+1 logo below!