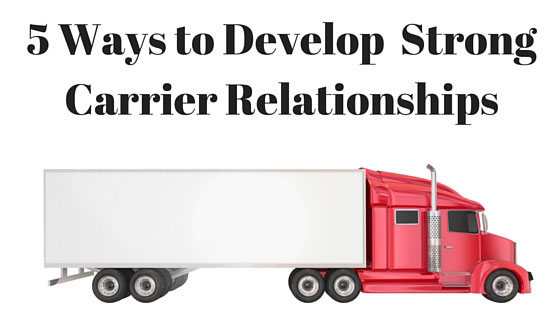 I ran my freight brokerage for over 13 years before I retired and during that time I saw and met well over 500 freight brokers and/ or freight agents.  One of the things I noticed that virtually all of the top freight broker and freight agents had in common was the fact that they focused on developing strong carrier relationships.
I wrote this post and shot this short video because, in my experience, most freight brokers and freight agents have no clue why or how to develop strong carrier partnerships.
4 Reasons Why Freight Brokers and Freight Agents Need to Focus on Developing Strong Carrier Relationships?
1. Having strong carrier relationships are equally as important as strong customer/shipper relationships.
2. You will never build a success or sustainable freight brokerage or agency by pulling trucks off of a load board for all your loads.
3. Because focusing on relationships building with carriers will make you stand out from the crowd.
4. You will get better service and more access to trucks/resources than your competitors.
Be sure to watch the short video below where I talk in more detail about both WHY and HOW freight brokers and freight agents can develop strong relationships with carriers.
>> How to Become a Freight Broker or Agent in 30 Days or Less <<
5 Ways Freight Brokers and Freight Agents Can Develop Stronger Carrier Relationships!
1. Always pay them on time!  Offer quick pays and fuel advances whenever possible.  The quicker and easier you make it for a carrier to get paid, the more they will want to work with you.
2. Clearly communicate load details.  This includes dates, times, locations as well as anything unique, unusual or different about the shippers requirements.
3. Invest time to get to know your carriers/drivers so you can learn what their goals are, what are their challenges and then figure out a way to provide value.
4. Say "Thank you" to drivers and dispatchers whenever you get the chance.  It's amazing how powerful those two simple words can be and what showing a little of appreciation can do.
5. When someone goes above and beyond for you, return the favor and do something nice.  Don't take their extra effort for granted be sure to reward them with something simple like having a pizza delivered to them or sending them a $10 gift card to Dunkin Dounuts, Starbucks of Tim Hortons for a fresh cup of coffee. This carrier relationship hack can pay huge dividends.
These are just a few examples of how freight brokers and freight agents can develop stronger carrier relationships.  Invest time in relationship building and make sure to treat carrier more like partners than just a means to an end.
Question?  Are you still thinking about becoming a Freight Broker or Agent?
If so, www.FreightBrokerBootcamp.com offers a 60 Day 100% Money Back Guarantee!
Did this article help you out?  If so, I would greatly appreciate it if you would comment below, SHARE on Facebook, Twitter, LinkedIn and be sure to g+1 logo and let Google know too!