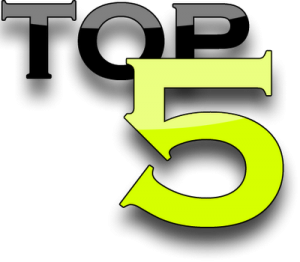 First and foremost, I am very sorry for not being more active on this blog.  No excuses but the fact is, my freight brokerage continues to grow year over year and there are times it feels like I am trying to hold a tiger by the tale!  One of my goals for this year is to spend more time writing and blogging, so while this is the first post of 2013 I am planning on doing at least 1-2 posts per month for YOU….my Freight Broker Boot Camp students and fans.
What better way to start the year than with a recap of the Top 5 most popular freight broker training blog posts from 2012.  The interesting thing about this list is the fact that the topics are so diversified.
Drum roll please…. 🙂
#5 – What is factoring? Pro's and con's for freight brokers!  Read more…
Factoring is something I get a lot of questions about so I am not surprised it is in the top 5. The other day I talked to a student and he said that some factoring companies are giving him a hard time about non recourse factoring to brokers and I told him that the life of a freight broker and/or freight agent is full of change so it's critical to learn how to adapt quickly to both survive and thrive!
#4 – What is a backhaul?  Read more…
To many the concept of a backhaul is a complete mystery?  One thing is certain, backhauls are an incredibly powerful force in the world of freight brokers, freight agents and trucking companies, so please make sure you understand how this concept can and will impact your business.
#3 – Timing is everything, why become a freight broker today?  Read more..
My old wrestling coach used to say the definition of "Luck is when prepartion meets opportunity!"  The fact is there are changes that are taking place right now that will make both freight brokers and freight agents more valuable to shippers than ever!  Another related article that you might want to check out is Freight broker bond increased! How can you benefit from this new legislation?
#2 – Who are a freight broker's customers?  Read more…
Many times students are confused about who do freight brokers do business with and that is probably the reason for the popularity of this post.  Hint – while you can find good motor carriers on load boards, rarely if ever are you going to find good customers! 🙂
#1 – How much can a freight broker or freight agent earn?  Read more…
I know first hand how much a freight broker and/or freight agent can make because I have  owned and operated a successful brokerage for over 9 years.  The fact is, freight brokers and agents come in all shapes and sizes from less than $1 million to over $1 billion in sales.  But what really matters is for you to determine how much you want to make and to work on a plan to get you there.  Learning the "How to.." from a reputable trainer is typically a good first step!
So 2012 is in the books and another year has come and gone.  If you took my online freight broker training course I want to thank you and if you're just a casual following I hope you enjoyed the blog.
2013 is going to be another great year!  The key is to not sit on the sidelines and let time and opportunity pass you by.  Good luck!
Do you remember the definition of Luck? I hope so…. 🙂
P.S. Please don't forget to Share this with others, as seen below my signature and take a minute to let Google know you enjoyed the blog by clicking the g+1 logo at the top left of this and every article.
Regards,
Dennis Brown
Owner, www.FreightBrokerBootcamp.com